Oppigård Amarillo, third batch
This recipe is also from the book [1] and the third batch of this beer and it is one of my favorite hopier beer. I think it is fun to brew single hop beers since you learn to recognize the taste and aroma of a single hop at a time. The aroma of Amarillo is described as flowery, spicy and citrus-like with a distinct orange bouquet.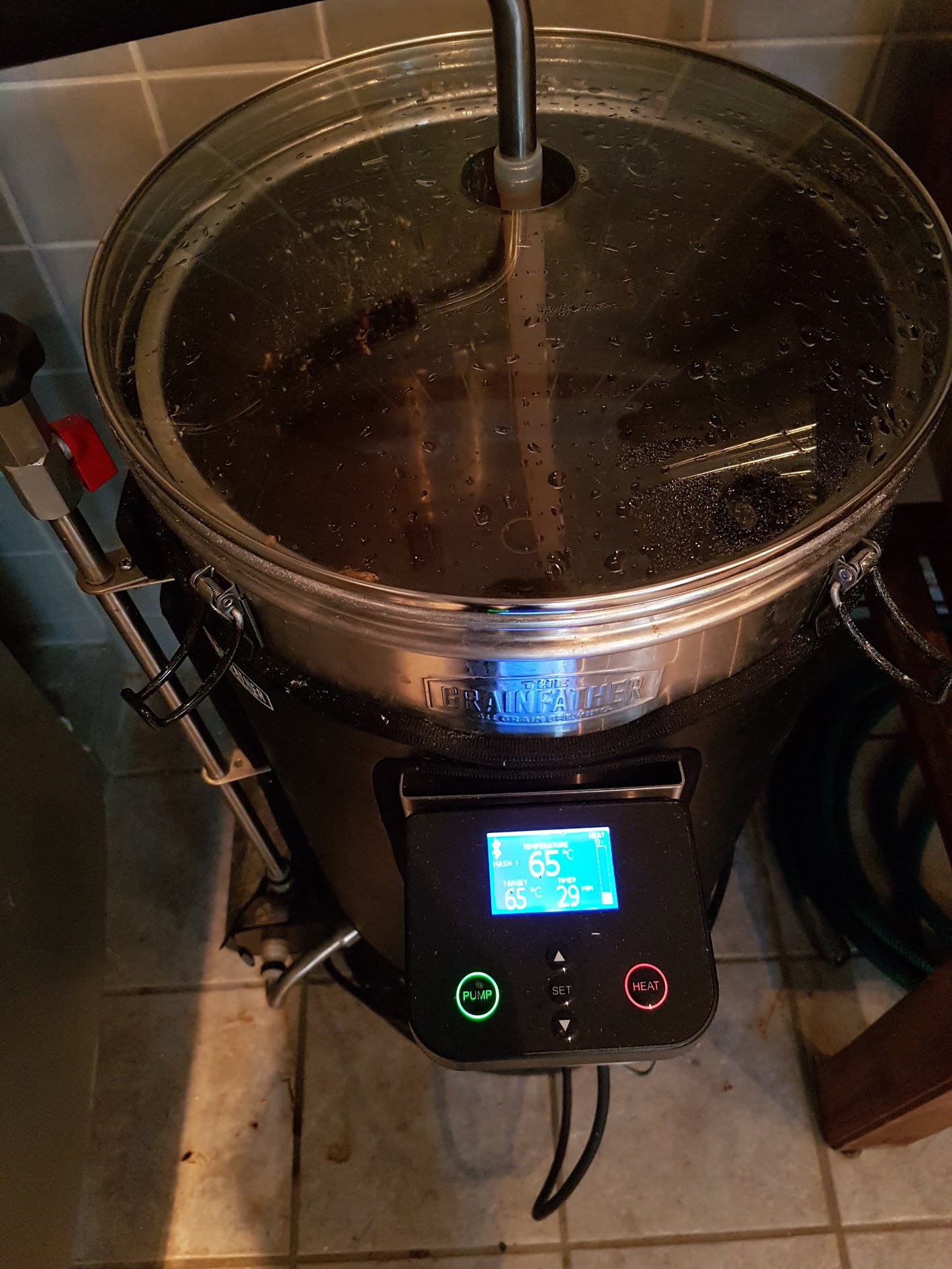 Result
The beer was a success even this time. It has been two weeks since brewday and the beer is already really good, but I think a week of storage will make it even better.
Recipe
| | |
| --- | --- |
| Brewer: | Marcus Folkesson and Kent Gustavsson |
| Batch size: | 23.00l |
| Boil time: | 70.00min |
Measurements
| DESCRIPTION | MEASURED | ESTIMATED |
| --- | --- | --- |
| Original Gravity | 1.060 | 1.060 SG |
| Final Gravity | 1.0150000 | 1.011 SG |
| Alcohol By Volume | 5.9 % | 6.4 % |
Ingredients
Hops
| HOP | ALPHA | AMOUNT | USE | TIME | NOTES |
| --- | --- | --- | --- | --- | --- |
| Amarillo | 9.20 percent | 9.55 grams | Mash | 60.00min | Discovered and introduced by Vigil Gamache Farms Inc. in Washington State. Character similar to Cascade. Often used as a late kettle or dry hop addition to American style Pale Ales and IPA's due to its signature aroma characteristics. Used for both bitterness and aroma. Used for: IPAs, Ales Aroma: Intensely fruity (citrus, melon, and stone friuts), floral, tropical notes. Substitutes: Cascade, Centennial, Simcoe Storage: Good 8-11% AA / 6-7% Beta |
| Herkules | 14.50 percent | 4.30 grams | Boil | 60.00min | A German high alpha cross variety, bred in Huell and released in 2005. Imparts robust, hoppy tang flavors. Used for: hoppy German-style ales or lagers Aroma: Spicy floral and hop notes, with hints of pine, lemon and black pepper. Substitutions: Unknown Storage: Good 13-17% AA / 4-5.5% Beta |
| Amarillo | 9.20 percent | 13.38 grams | Boil | 30.00min | Discovered and introduced by Vigil Gamache Farms Inc. in Washington State. Character similar to Cascade. Often used as a late kettle or dry hop addition to American style Pale Ales and IPA's due to its signature aroma characteristics. Used for both bitterness and aroma. Used for: IPAs, Ales Aroma: Intensely fruity (citrus, melon, and stone friuts), floral, tropical notes. Substitutes: Cascade, Centennial, Simcoe Storage: Good 8-11% AA / 6-7% Beta |
| Amarillo | 9.20 percent | 13.38 grams | Boil | 25.00min | Discovered and introduced by Vigil Gamache Farms Inc. in Washington State. Character similar to Cascade. Often used as a late kettle or dry hop addition to American style Pale Ales and IPA's due to its signature aroma characteristics. Used for both bitterness and aroma. Used for: IPAs, Ales Aroma: Intensely fruity (citrus, melon, and stone friuts), floral, tropical notes. Substitutes: Cascade, Centennial, Simcoe Storage: Good 8-11% AA / 6-7% Beta |
| Amarillo | 9.20 percent | 11.46 grams | Boil | 20.00min | Discovered and introduced by Vigil Gamache Farms Inc. in Washington State. Character similar to Cascade. Often used as a late kettle or dry hop addition to American style Pale Ales and IPA's due to its signature aroma characteristics. Used for both bitterness and aroma. Used for: IPAs, Ales Aroma: Intensely fruity (citrus, melon, and stone friuts), floral, tropical notes. Substitutes: Cascade, Centennial, Simcoe Storage: Good 8-11% AA / 6-7% Beta |
| Amarillo | 9.20 percent | 11.46 grams | Boil | 15.00min | Discovered and introduced by Vigil Gamache Farms Inc. in Washington State. Character similar to Cascade. Often used as a late kettle or dry hop addition to American style Pale Ales and IPA's due to its signature aroma characteristics. Used for both bitterness and aroma. Used for: IPAs, Ales Aroma: Intensely fruity (citrus, melon, and stone friuts), floral, tropical notes. Substitutes: Cascade, Centennial, Simcoe Storage: Good 8-11% AA / 6-7% Beta |
| Amarillo | 9.20 percent | 5.73 grams | Boil | 5.00min | Discovered and introduced by Vigil Gamache Farms Inc. in Washington State. Character similar to Cascade. Often used as a late kettle or dry hop addition to American style Pale Ales and IPA's due to its signature aroma characteristics. Used for both bitterness and aroma. Used for: IPAs, Ales Aroma: Intensely fruity (citrus, melon, and stone friuts), floral, tropical notes. Substitutes: Cascade, Centennial, Simcoe Storage: Good 8-11% AA / 6-7% Beta |
| Amarillo | 9.20 percent | 36.00 grams | Boil | 0.00min | Discovered and introduced by Vigil Gamache Farms Inc. in Washington State. Character similar to Cascade. Often used as a late kettle or dry hop addition to American style Pale Ales and IPA's due to its signature aroma characteristics. Used for both bitterness and aroma. Used for: IPAs, Ales Aroma: Intensely fruity (citrus, melon, and stone friuts), floral, tropical notes. Substitutes: Cascade, Centennial, Simcoe Storage: Good 8-11% AA / 6-7% Beta |
Grain
| GRAIN | ORIGIN | AMOUNT | NOTES |
| --- | --- | --- | --- |
| Pale Malt, Maris Otter | United Kingdom | 5.74 kg | Premium base malt from the UK. Popular for many English styles of beer including ales, pale ales and bitters. |
| Caramel/Crystal Malt -120L | US | 0.26 kg | Adds body, color and improves head retention. Also called "Crystal" malt. Very Dark |
Miscellaneous
| NAME | USE IN STEP | AMOUNT | USED FOR | NOTES |
| --- | --- | --- | --- | --- |
| PH 5.2 Stabilizer | Mash | 17.97 grams | Water Agent | PH 5.2 Stabilizer by Five Star is a prioprietary mix of phosphate buffers used to lower the PH of your Mash to 5.2 for brewing. |
| Gypsum (Calcium Sulfate) | Boil | 7.60 grams | Water Agent | Reduces PH of water for mashing and sparging. Alters water profile -- used to harden soft water. Use the BeerSmith Water Profile tool to determine amount to add. |
| Epsom Salt (MgSO4) | Boil | 4.00 grams | Water Agent | Water agent used to modify water profile. Use the BeerSmith Water Profile tool to determine amount to add. |
| Chalk | Boil | 0.40 grams | Water Agent | Chalk (CaCO3) can be used as a water addition to adjust mineral content for mashing. |
| Irish Moss | Boil | 1.50 grams | Clarity | Fining agent that aids in the post-boil protein break. Reduces protein chill haze and improves beer clarity. |
| Yeast Nutrient | Boil | 5.99 grams | Fermentation | Gives yeast nutrients for healthy fermentation. Not needed for most beers, but good for those with a high percentage of adjuncts. Add before yeast. |
Yeast
| NAME | TYPE | FLOCCULATION |
| --- | --- | --- |
| American Ale Yeast Blend | Ale | Medium |
Mash
| STEP | TYPE | TEMPERATURE | TIME |
| --- | --- | --- | --- |
| Mash Step | Infusion | 60.00 C | 65.00 min |
| Mash Out | Temperature | 10.00 C | 75.56 min |
Fermentation
| STAGE | TEMPERATURE | DAYS |
| --- | --- | --- |
| Primary | 22 | 14 |
| Secondary | 18 | 10 |