St Eriks Pale Ale, second batch
The book "Klona öl" [1] ("Clone beers" in English) has collected recipes from many Swedish breweries. One challenge is to brew a recipe and then buy a bottle with the same beer and compare, hope
This is the second time we brew a St:Eriks Pale ale, which is a pale ale with a lot of citrus aroma from the Citra and Simcoe hop. The body is quite light and it is a perfect summer beer.
Comments from my wife on the first batch was "Wow, tasty! Tastes like Fanta". I'm not sure if that is high score or not. She usually do not like beer.
There is a few differences since the first batch.
We were using Fermentis Safale S-04 instead of Safale S-05 witch should attenuates lower and leave more residual sweetness
Primary fermentation in 18 degrees Celsius instead of 19, which should give us a more clean taste without many esters
Both Safale S-04 and S-05 are dry yeasts and I did not bother to make a starter.
We did not adjust the PH of the mash water nor sparge water this time, but it did not affect the mash efficiency that much.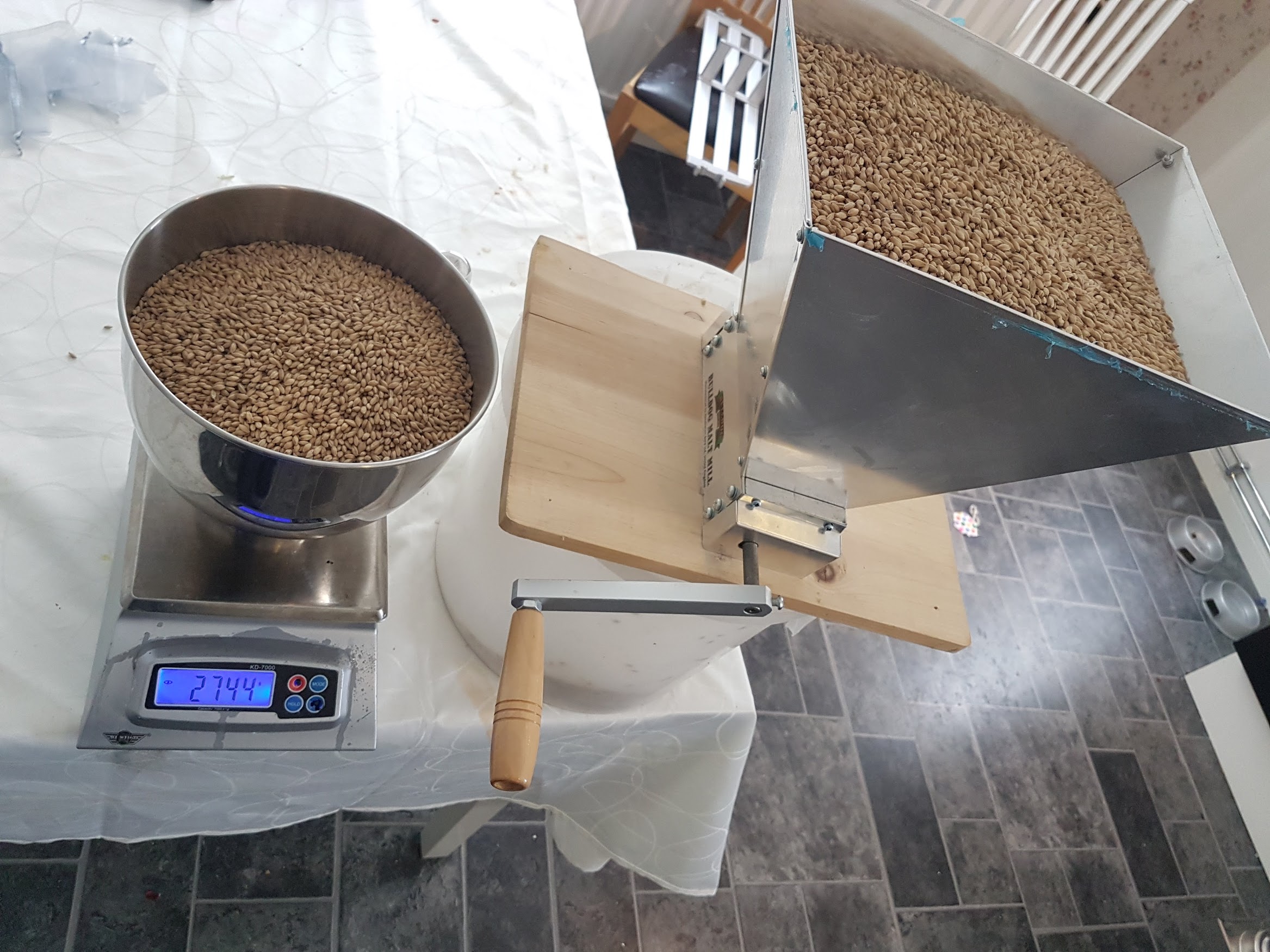 Result
The taste was a little too clean. I miss the maltyness that the Maris Otter base malt usually gives and fruitiness from the S-04. I think the primary fermentation at 18 degrees was too low. Only a degree make huge difference on the production of esters.
Still a good beer though.
Recipe
| | |
| --- | --- |
| Brewer: | Marcus Folkesson and Kent Gustavsson |
| Notes: | Forgot to add PH stabilizer to mash and sparge water |
| Batch size: | 23.00l |
| Boil time: | 70.00min |
| Measurements | | |
| --- | --- | --- |
| DESCRIPTION | MEASURED | ESTIMATED |
| Original Gravity | 1.054 | 1.048 SG |
| Final Gravity | 0.009 | 1.009 SG |
| Alcohol By Volume | 5.9 % | 5.2 % |
Ingredients
Hops
| HOP | ALPHA | AMOUNT | USE | TIME | NOTES |
| --- | --- | --- | --- | --- | --- |
| Northern Brewer | 8.50 percent | 3.85 grams | Boil | 60.00min | Also called Hallertauer Northern Brewers Used for: Bittering and finishing both ales and lagers of all kinds Aroma: Fine, dry, clean bittering hop. Unique flavor. Substitutes: Hallertauer Mittelfrueh, Hallertauer Examples: Anchor Steam, Old Peculiar, |
| Citra | 12.00 percent | 17.69 grams | Boil | 15.00min | Special aroma hops released in 2007. Imparts high alpha/oil content but low cohumulone. Aroma: Adds interesting citrus and tropical fruit character to the beer. Substitutes: Unknown |
| Simcoe | 13.00 percent | 17.69 grams | Boil | 15.00min | High alpha bittering hops with good aroma characteristics. Used for: IPAs Aroma: Citrus and pine-like aroma Substitutes: N/A |
| Simcoe | 13.00 percent | 35.38 grams | Boil | 2.00min | High alpha bittering hops with good aroma characteristics. Used for: IPAs Aroma: Citrus and pine-like aroma Substitutes: N/A |
| Citra | 12.00 percent | 35.38 grams | Boil | 1.00min | Special aroma hops released in 2007. Imparts high alpha/oil content but low cohumulone. Aroma: Adds interesting citrus and tropical fruit character to the beer. Substitutes: Unknown |
| Citra | 12.00 percent | 69.00 grams | Dry Hop | 4.00 days | Special aroma hops released in 2007. Imparts high alpha/oil content but low cohumulone. Aroma: Adds interesting citrus and tropical fruit character to the beer. Substitutes: Unknown |
Grain
| GRAIN | ORIGIN | AMOUNT | NOTES |
| --- | --- | --- | --- |
| Pale Malt, Maris Otter | United Kingdom | 3.41 kg | Premium base malt from the UK. Popular for many English styles of beer including ales, pale ales and bitters. |
| Pilsner (2 Row) UK | United Kingdom | 0.97 kg | Pilsner base malt |
| Carared | US | 0.49 kg | Adds body, color and improves head retention. Also called "Crystal" malt. |
Miscellaneous
| NAME | USE IN STEP | AMOUNT | USED FOR | NOTES |
| --- | --- | --- | --- | --- |
| Gypsum (Calcium Sulfate) | Mash | 7.60 grams | Water Agent | Reduces PH of water for mashing and sparging. Alters water profile -- used to harden soft water. Use the BeerSmith Water Profile tool to determine amount to add. |
| Epsom Salt (MgSO4) | Mash | 4.00 grams | Water Agent | Water agent used to modify water profile. Use the BeerSmith Water Profile tool to determine amount to add. |
| Chalk | Mash | 0.40 grams | Water Agent | Chalk (CaCO3) can be used as a water addition to adjust mineral content for mashing. |
| Yeast Nutrient | Boil | 2.00 grams | Fermentation | Gives yeast nutrients for healthy fermentation. Not needed for most beers, but good for those with a high percentage of adjuncts. Add before yeast. |
| Irish Moss | Boil | 15.00 grams | Clarity | Fining agent that aids in the post-boil protein break. Reduces protein chill haze and improves beer clarity. |
Yeast
| NAME | TYPE | FLOCCULATION |
| --- | --- | --- |
| Safale American | Ale | Medium |
Mash
| STEP | TYPE | TEMPERATURE | TIME |
| --- | --- | --- | --- |
| Mash Step | Infusion | 1.00 C | 60.00 min |
| Mash Step | Temperature | 30.00 C | 65.00 min |
| Mash Step | Temperature | 30.00 C | 72.00 min |
| Mash Out | Temperature | 10.00 C | 75.56 min |
Fermentation
| STAGE | TEMPERATURE | DAYS |
| --- | --- | --- |
| Primary | 19 | 4 |
| Secondary | 19 | 10 |